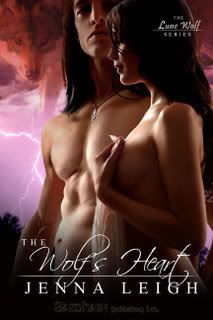 Each step in getting a book ready for publication is still really new for me, everytime something comes up, I'm worse than a kid at Christmas. Well, Santa Anne Cain put a great gift in my stockin early this year with this cover. I drool over it every time I look at it. *sighs* Where was I again? Oh yeah.
The Wolf's Heart is the story I started for NaNoWriteMo back in 2005, which I won by the way. I got my 50, 000 words, but, the story of Lainie and Marcus wasn't finished by a long shot. No, they kept talking and talking and yes, talking. I became a conduit of sorts for a compellingly dark yet funny story that kept me glued to my keyboard until it was finished. Then, strangely enough, I got the guts to do the *gag me* synopsis, and turn it into Samhain. Even stranger, on, Friday Octber 13th, they sent me an email saying, yes. Let me tell you, this hefty white chick CAN jump. (and holler and scream and cry and consume vast quantities of chocolate in celebration)
Now, I have to do something else....Wait. *blinks* I'm not too good at that you know. They say patience is a virtue, well pffth! Come on June! In the meantime, I'm working on the sequel to that book, which I'm calling The Wolf's Mistress. Now, I say that's what I'm calling it, but you just never know. I have to call it something, Meme laughs when I call it that damn book with the hot dude and mean girl in it. I owe her one anyway, she cyber-nurpled my cover hottie's bewb, I mean jeez! The cheek of some people! *grins* I'm really just mad I didn't think of it first, you know.
Still Droolin
Self Lovin Cover Slut
Jenna Leigh