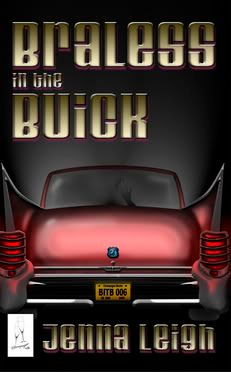 Five Ribbons!
Comical at times and full of passion, BRALESS IN THE BUICK is a rare novel that kept me up all night reading because I absolutely couldn't put it down. I thoroughly enjoyed Ms. Leigh's writing style as she told the story of Allie and Jake with precise definition, giving her characters life on the pages. From the meddling neighbors, to the secrets Mr. FBI kept, the story is full of surprises with an ending guaranteed to make you smile. A highly recommended must read for any lover of romance!
Thanks so much to Lacey at Romance Junkies!!
This just in: the great and powerful E leader of Champagne Books has given me a greenlight on Dateless in the Dodge, the sequel for Braless. And I didn't have to work Monday. Man, my week's just getting better and better. *looks down at the picture of Hugh* Yeah, it's all good.
Jenn