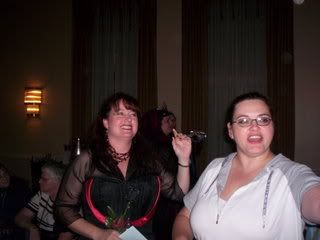 I got to talk to Sherrilyn Kenyon!! Yayy! I didn't faint, so I went home and ate some of the chocolate that Ange gave me. Only one piece (ok,four, yall shut UP!) She was so sweet, which is what everyone says, but since it's true, I'll repeat it. She was. Not as sweet as that chocy, but damn close. *licks lips* I may have some of it left. I need to hurry up and finish this dang blog. Go AG!!
This is the pic of Ange as promised. She pretended to be a rabid fan and asked me to sign her copy of my book amid fake squeals. I felt like a Beatle. I signed it Jennzilla. *grins*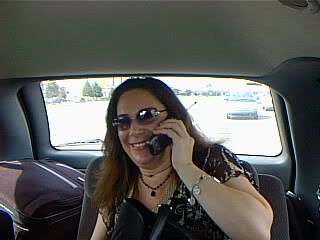 Karen on the phone on the way from the airport. Nee and I did not cry, I don't care what they say. *sniffles*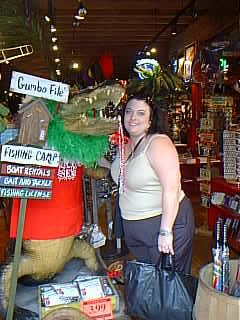 Meme hugging a gator. I hope she didn't contract salmonella.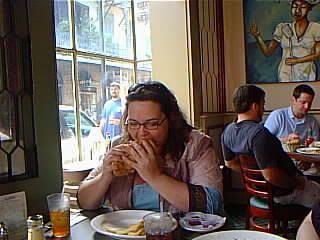 Please do not attempt this trick at home. I am a professional Po'boy eater. I have eaten big fat sannies all my life. My jaws unhinge at the back, seriously.
The Freaktastic Four at the Hard Rock Cafe`. We had a great time with the rest of the gang. I have pictures but won't post til they say I can. In other words, I have pictures but will keep them for blackmail purposes.
I will say this: I loved New Orleans, my experience with the LaSalle Hotel was nothing but great. The staff was zany, quirky and fun, yet efficient. Meme and I had all the towels and soap we needed, the TV and AC worked (thank you GOD!) and it was clean and well priced.
Everyone in the city was nice to us, they asked us where yall from. The others gave their answers. When I began mine.. they'd stop me. "Hon, we know where you're from.." *pauses* Do yall think that I have an accent? *snort* The only time we had a problem was at House of Blues. The man said you ain't comin out this way, I don't care who ya are. Meme and I gave our puppy eyes and he glared.. then hooted and told us, he was just playin. Then asked where ya from.. again informing me I needn't answer and then asking me if I knew where Springhill and Shreveport was. I do and he seemed delighted.
We even *gasps* went out at night for the Haunted History Tour. Our guide was fun. He told us at no time would a person jump out at us in a mask with a knife as part of a tour. If this happened it was called a mugging and to see him on tips on running and/or screaming and running. This didn't happen of course. I did have to walk with the slightly drunken weenies you see with me below out side of Jean Lafitte's.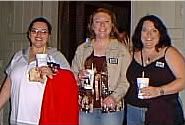 My camera was acting up, so here is the only pic that looks half decent from the tour.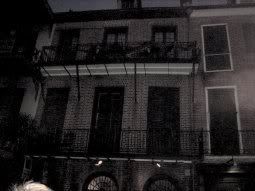 I met people that I've known for years, I made new friends, renewed old acquaintances and yes, had a wonderful time. Now, I have go back to work tomorrow. Will I be the same old person? Maybe, but I'll be sure and say that the streets weren't littered with the bodies of the dead. I didn't see any gators, foxes or even rats, I did a dead possum on the side of the road once I got about a mile from MY house. The people didn't steal me blind, they aren't surly, or grumpy or any of that sort of thing.
New Orleans is still struggling in some spots, but what I saw was beautiful and old and mysterious and just plain awe inspiring. I loved it, and I'll go back again at the earliest opportunity I get. I hope you'll give it a try too. We that would be four women and sometimes only two, walked that city in the dark.. we're safe if not sane.
So, don't listen to the rumors, go and see for yourself. Be smart as you would in any large city. I did go into the red light district and ew, not my cup of tea, but I still didn't get mugged or anything. In fact the only person who was spoken to in even a mildly harsh tone was Meme and that was on the phone by *coughs* my mama *coughs* when she answered my cell. LOL!!!
What did you learn in this blog? New Orleans is nominally safe (now that I'm gone) it's still fun, and KCon and Sherri were wonderful. Oh and don't mess with a redneck mama's chick cause she'll unpack the good knives and come after your butt in a hot second. Meme thinks she was evil, heck, that was her nice voice. I do get it honest.
Love
Jenn
Maker of the best sweet tea ever *winks*
PS: Thanks to Ange for the Godiva Chocy and her enactment of Jenn-fandom (((HUGS)))
Karen.. I have the card.. I shall be using it soon.. very soon. Starbucks will know me and despair!
Meems.. F**K Phil!
Nee the bridge didn't kill us it only made us smoke more
Mary.. so wonderful to meet you, finally!
Sollipop.. you shall pay for the chair.. and your evil hubby too
Mels! I finally got to meet you too! Redneckit up!
Nipps.. I've decided the bandages were but a ploy to cover up your hairy Hobbit feet
Mo.. thanks for the bag!
Tiff C is for Coookiiiiiiieeeeeeeeeee!
Jacs, Tink, Cy, Mama Lo and all the rest I know I'll forget, Whooooooohooo!
To Lauren who was freakin cool enough to let me smoke with her! *lights one up*
Oh and the Crazy Train riverdancing girl whose name I can't spell, you so frickin rocked!
I hope to see you all again real soon.
The good times rolled.. and rocked too.
PPS: I just got an email sayin that I can start edits on The Tail of the Wyvern! Yeah baby! *sighs* I don't even care that Tuesday is Monday yall.. *grins*
WHHHHHHHHHHHHHHOOOOOOOOOOOOOOOOHOOO!